Skip to Content
Outdoor Kitchen Design in Central Florida
Here at Patio Style, part of our business is solely dedicated to outdoor kitchen design in Central Florida. We have an entire section of our showroom designated as our outdoor kitchen design studio. We even have an outdoor kitchen specialist on staff to help you design and create the perfect outdoor space for your home. Our team has designed outdoor kitchens for homes throughout the greater Orlando area, including Winter Park, Winter Garden, Longwood, and more. Our outdoor kitchen specialist typically works by appointment, so be sure to call ahead at 407-862-4600 to make sure we can set aside time to devote to you. We can't wait to help you build the outdoor kitchen of your dreams!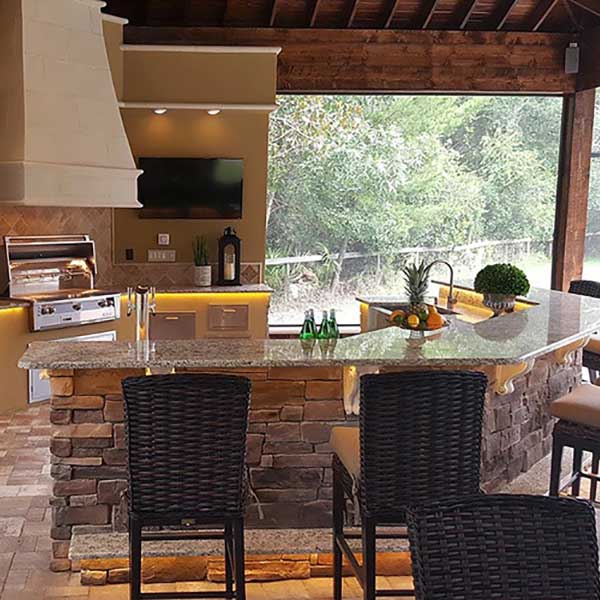 Types of Projects We Complete
We can complete all of the following types of outdoor kitchen projects:
Vented Kitchens: This type of kitchen is usually partially indoors or under a roof, requiring the need for proper ventilation while you cook. We'll ensure your area has everything it needs, including the appropriate hood fan to keep you safe and comfortable during afternoons of cooking.
Non-Vented Kitchens: Our non-vented kitchens feature a grill that's located in a fully-ventilated area, hence the absence of hood fan. We'll help you design the space to include any other accessories you may want, like a fridge or sink.
Designer Projects: Our designer projects are large-scale kitchens that we've built in conjunction with planning and decorating a client's patio with furniture. That means we create the entire space with inspiration from your patio vision. We'll sit down with you and discuss what you want, then design, build, and decorate the entire area.
Get in Touch with Us Today!
Are you ready to begin the process of building your outdoor kitchen? Now is the time to get started. We invite you to browse some of our completed projects on this page to get inspiration for your own. If you already have an idea in mind, that's even better! We'll work with you to make it a reality. Call us today to set up a time for your consultation.
We Offer Complete Design Services